Правообладателям
IELTS Express Intermediate Coursebook.
R. Hallows, M. Lisboa, M. Unwin
( Includes complete practice test. )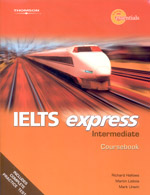 THOMSON, 2006 - 134 pages (with audio - 2 CD)
IELTS Express is a two-level preparation course for candidates studying for the International English Language Testing System examination (IELTS). The intermediate level is aimed at an IELTS score of 4 - 5.5. IELTS-type tasks and practice activities provide students with the essential skills they need for exam success.
Each IELTS Express Coursebook is an ideal choice for short preparation courses of 30-40 hours, and can easily fe extended for longer courses by selecting from supplementary materials.


Book:
Format: pdf
Size: 28,4 Mb
Скачать: yandex.disk
Audio: ( 2CD = 50 files mp3 )
Format: mp3 / zip
Size: 118 Mb
Скачать: drive.google ;
---
О том, как читать книги в форматах pdf, djvu - см. раздел "Программы; архиваторы; форматы pdf, djvu и др."
---
.