Правообладателям
Английский язык. Пособие для подготовки к ЕГЭ. Радовель В.А.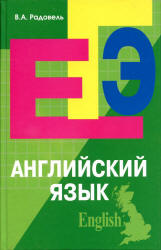 2011. - 448 с.
Учебное пособие составлено в соответствии с действующими программами общеобразовательных школ и предназначено для эффективной подготовки к сдаче Единого государственного экзамена (ЕГЭ) по английскому языку.
Пособие снабжено текстами, диалогами и заданиями для овладения учащимися с различным уровнем подготовки лексическим и грамматическим материалом, проверки понимания прочитанного, а также для усвоения навыков письма и говорения на английском языке. В нем имеется грамматический справочник, который будет полезен для развития речевых навыков и подготовки к ЕГЭ.
Пособие содержит два комплекта тестов, составленных в полном соответствии с «Демонстрационным вариантом контрольных измерительных материалов Единого государственного экзамена 2010 года по английскому языку».
Оно рассчитано на учащихся старших классов средних учебных заведений, но также может быть использовано абитуриентами, студентами начальных курсов неязыковых вузов и всеми, кто желает восстановить и усовершенствовать свои знания по английскому языку.

Формат: pdf
Размер: 16 Мб
Скачать: yandex.disk
СОДЕРЖАНИЕ
Предисловие 8
Unit l. MY FAMILY and MYSELF
Моя семья и я 10
Grammar Review: Nouns. Articles. Pronouns. The verbs "to be", "to have". The Present Continuous Tense. Texts: About Myself. Meet My Friends. Appearance and Character. My Biography. Dialogues: The Only Son in the Famiy. Hello! How is Life?
Unit 2. LEARNING ENGLISH
Изучение английского языка 24
Grammar Review: Adjectives. Numerals. Prepositions: in, on, at, of. The Present Simple Tense.
Texts: Foreign Languages in the Life of a Modern Man. English in My Life. The English Language. What is a Polyglot? The Words of the English Language. How I Work at My English.
Dialogues: Learning English. Bye for Now.
Unit 3. MY HOME IS MY CASTLE
Мой дом — моя крепость 39
Grammar Review: Phrases "there is", "there are". Pronouns: some, any, no. Imperative Mood. Past Simple. Prepositions: for, about, to, into, from, out, out of.
Texts: The Flat I Live in. The Robsons' House. The City I Live in (Rostov-on-Don). St. Petersburg.
Dialogues: An Interview. This Is Edward Speaking.
Unit 4. TRAVELLING
Путешествия 55
Grammar Review: Modal Verbs. Simple Tenses Active. Preposi¬tions: above, below; over, under.
Texts: Travelling. Different Ways of Travelling. Means of Travelling. Tourism. A Motor Trip.
Dialogues: Summer Holidays. Let Me Introduce My Friend To You.
Unit 5. BOOKS IN MY LIFE
Книги в моей жизни 67
Grammar Review: Modal Verbs and their Equivalents. Simple Tens¬es Active. Prepositions: among, between; except, besides; beyond. Texts: Books in Our Life. At the Library. My Favourite Writer: W. Shakespeare, A. Christie, M. Twain, R. Bradbury, L. Tolstoy,
A. Chekhov. From the History of Books: Ivan Fyodorov. William
Caxton Paper.
Dialogues: A Birthday Present. Making an Appointment.
Unit 6. FAMOUS PEOPLE
Известные люди 88
Grammar Review: Simple Tenses Passive. Impersonal Sentences. Prepositions: by, with, without, within.
Texts: Public Figures: Peter the Great. Abraham Linkoln. Win¬ston Churchill. Famous scientists: I. Newton, M. Lomonosov,
B. Franklin, J. Maxwell. Military Leaders: A. Suvorov, Admiral
Nelson.
Dialogues: At the Hotel. Would You Have a Cup of Tea?
Unit 7. MASS MEDIA
Средства массовой информации 107
Grammar Review: Progressive Tenses Active and Passive. Prepositions: up, down, along, across, through. Texts: Mass Media in the Life of our Society. Electronic Com¬munication. Press in the U.K. Press in the U.S.A. The Role of TV in our Life. Dialogues: At the Post-Office. In the Street.
Unit 8. ENVIRONMENT
Окружающая среда 121
Grammar Review: Perfect Tenses Active and Passive. Indirect Ques¬tions. Prepositions: after, before, till, until, since. Texts: Ecological Problems. Protection of the Environment. Cher¬nobyl Disaster. The Aral Sea: An Environmental Crisis. Fashion and Environment. Water and Air Pollution. Dialogues: The Weather Changes \fery Often. At the Doctor's.
Unit 9. YOUTH PROBLEMS
Молодежные проблемы 137
Grammar Review: Perfect Continuous Tenses Active and Passive. Compound Prepositions.
Texts: Problems of Teenagers. Young People — Old Problems.
Youth Organizations in Great Britain. Youth Organizations in the U.S.A. Modern Youth Groupings.
Dialogues: At McDonald's. Dinner at the Restaurant.
Unit 10. KEEPING FIT AND DOING SPORT
О спорте 153
Grammar Review: English Tenses in the Active \bice. Compound
Prepositions.
Texts: Sports and Games. Favourite Sports in Different Countries
(Great Britain, America, Russia). Some Special Kinds of Sports.
The Olympic Games.
Dialogues: At the Football Match. Sports and Games in Great Britain.
Unit 11. RUSSIA - MY MOTHERLAND
Россия — моя Родина 169
Grammar Review: English Tenses in the Passive Voice. Adverbs.
Texts: The Russian Federation. State System of the Russian
Federation. From the History of Russia. Russia — My Beautiful Motherland.
Dialogues: Thank You for Coming. Breakfast in the Russian Family.
Unit 12. MOSCOW - THE CAPITAL OF RUSSIA
Москва — столица России 185
Grammar Review: Sequence of Tenses. Future in the Past. Direct and Indirect Speech.
Texts: Moscow — the Capital of Russia. The Sights of Russia. The Kremlin's Cathedrals. From the History of Moscow. Dialogues: Moscow's Places of Interest. We've Lost our Vfay.
Unit 13. ENGLISH-SPEAKING COUNTRIES. THE UNITED KINGDOM
Англоязычные страны. Великобритания 202
Grammar Review: Direct and Indirect Speech (interrogative and imperative sentences).
Texts: The United Kingdom of Great Britain and Northern Ire¬land. London — the Capital of the U.K. The Sights of London: The Tower of London. Westminster Abbey. The Houses of Par¬liament. St. Paul's Cathedral. Buckingham Palace. A Day of an Englishman. Dialogues: A Walk on Hampstead Heath. Sightseeing in London.
Unit 14. ENGLISH-SPEAKING COUNTRIES.
THE UNITED STATES OF AMERICA
Соединенные Штаты Америки 228
Grammar Review: Non-Finite Forms of the \ferb. The Infinitive. The Infinitive Constructions.
Texts: The United States of America. Washington and its Sights. The Main Cities of America: New York. Philadelphia. Chicago. San Francisco. A Trip from San Francisco to New York. English¬men and Americans. Dialogues: Washington D.C. At the Hotel.
Unit 15. ENGLISH-SPEAKING COUNTRIES.
CANADA. AUSTRALIA. NEW ZEALAND
Канада. Австралия. Новая Зеландия 253
Grammar Review: Gerund. Gerundial Constructions. Texts: Canada. Canadian Main Cities. Australia. Terra Incognita. The Strange Wbrld of Australian Animals. New Zealand. Dialogues: Travelling along New Zealand. At the Airport.
Unit 16. HOLIDAYS AND TRADITIONS
Праздники и традиции 275
Grammar Review: Participle I. Participle II. Perfect Participle (Active, Passive). Absolute Participle Construction. Texts: General Holidays. Some National American Holidays. Holidays in Russia. British Customs and Traditions. Four Char¬acters of Britons. Dialogues: Planning a Holiday. At a Health Resort.
Unit 17. EDUCATION IN RUSSIA AND IN ENGLISH-
SPEAKING COUNTRIES
Образование в России и англоговорящих странах 295
Grammar Review: Compound and Complex Sentences. Conjunctions and Conjunctional Words.
Texts: Education in Russia. Education in the United Kingdom. The System of Education in the U.S.A. My Lyceum. Dialogues: Mark My Words. In the Search of a Job.
Unit 18. MUSIC IN OUR LIFE
Музыка в нашей жизни 311
Grammar Review: The Subjunctive Mood.
Texts: Music in Our Life. Some Musical Styles. RI. Chaikovsky.
A.L.Webber. Russian Classic Music.
Dialogues: At a Concert. You Don't Object to Music, Do You?
Unit 19.CINEMA AND THEATRE
Кино и театр 327
Grammar Review: Adverbial Clauses. Conditional Sentences. Texts: Cinema in Our Life. Visiting a Theatre. English Theatres. American Theatres. Cinema in America. Dialogues: At the Theatre. Going to the Movies.
Unit 20. MUSEUMS AND PICTURE GALLERIES
Музеи и художественные галереи 343
Grammar Review. Texts: British Museums and Art Galleries. Rus¬sian Arts. Pride of the Russian People (I. Repin).Tomas Gains¬borough. Rockwell Kent. American Painters. Russian Wandering Art Painters. Dialogue: In the Hall of the Russian Painters-"V\&nderers.
ГРАММАТИЧЕСКИЙ СПРАВОЧНИК 363
ТЕСТЫ ДЛЯ ПОДГОТОВКИ К ЕГЭ 416
ЛИТЕРАТУРА 447
---
О том, как читать книги в форматах pdf, djvu - см. раздел "Программы; архиваторы; форматы pdf, djvu и др."
---
.